In the News

A New Opportunity to Make an Impact: Bank of Commerce Leverages Member Impact Funds to Benefit Carbon County
Rawlins, WY, June 9, 2023 – Bank of Commerce (BOC) recently partnered with Federal Home Loan Bank Des Moines (FHLB Des Moines) to utilize their Member Impact Fund program. This is a joint effort to provide nearly $15 million to hundreds of non-profits and government agencies to help strengthen communities in targeted areas. Recipient organizations were selected based on the needs for grant funding to support capacity-building or working capital. Bank of Commerce identified 7 non-profits in Carbon County that they currently support, applied, and were awarded matched funding.  
Bank of Commerce is a longstanding community bank with a proud tradition of reinvesting in the communities they serve. Nicole Murry, BOC Marketing says, "Because our nonprofit community does such a great job of building up our neighbors most in need, we are excited to have this opportunity to add additional support across Carbon County." BOC accounted for 7 of Wyoming's 264 awards. With close to a  3:1 match, the grant funds given totaled $27,290 distributed in the community by BOC and FHLB Des Moines. Copper France, President & CEO says, "This is just another tremendous opportunity for us to give back to our community and leverage resources we have access to as a local community bank. We are grateful for FHLB in helping us give back in our community."
For Immediate Release.
Contact: Nicole Murry – (307)324-2265 nmurry@bocrawlins.com
---

Bank of Commerce Set to Open Full-Service Branch in Saratoga
(Rawlins, Wyoming – June 6, 2023) Bank of Commerce (BOC), a locally-owned community bank in Rawlins, has plans to open a full-service branch in Saratoga as soon as this fall. BOC has served the Platte Valley community for many years and has identified the need for more options. With business exploding in the Platte Valley area, the Bank opened the Saratoga Loan Production Office last December that is quickly transitioning to a full-service branch.  Copper France, President & CEO says, "It became glaringly apparent that the people in the Platte Valley would like to have a choice in who they bank with. We are offering them that option while bringing the excellent customer service they have grown accustomed to, closer to home." While the branch expansion is in the works, Bank of Commerce will continue to serve loan customers at the Loan Production Office that remains open weekdays from 8 am – 5 pm.
Bank of Commerce identified Saratoga as an ideal branch location due to the existing relationships that have been built with local developers, builders, and realtors, as well as the bank's ties to the thriving businesses in the Platte Valley communities. Karen Youngberg joined the BOC team last fall with 40 years of valuable banking experience and will continue to serve in a leadership role at the new branch. She says, "We are pleased to expand our presence in Carbon County. Our core strengths remain in personal attention, local decision making, and exceptional service." BOC is in the process of hiring and training new customer service staff for the Saratoga location to begin onboarding immediately. France says, "Today's announcement is another reminder of the Bank's continued commitment to support and invest in the communities that we serve across Carbon County". 
The physical address is: 217 N 1st Street. Lobby hours will be Monday through Friday, 8:30 am-5:00 with a night deposit and ATM available 24/7.
For Immediate Release.
Contact: Nicole Murry – (307)324-2265 nmurry@bocrawlins.com
---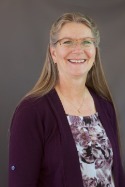 Ruby Ogden announces upcoming retirement.
February 8, 2023 (Rawlins, Wyoming) – Bank of Commerce, the only locally-owned community bank in Carbon County, announced today the retirement of Senior Executive Vice President, Ruby Ogden. After over four decades of distinguished service, Copper France, President and CEO of Bank of Commerce says, "The passion and dedication to this bank for the past 44 years will not be easily matched."   
Ruby Ogden has been instrumental in Bank of Commerce's success having held various positions in the bank. She started her career as a young woman in a predominantly male banking world and says, "I am proud to have learned everything I could over the years, to earn the respect of my superiors and coworkers along the way." She did just that. Ruby worked her way up and held positions in nearly all areas of the bank; bookkeeping, new accounts, loan department, human resources, payroll, and completed her career as Senior Executive Vice President of Bank Operations.  She says, "I set out to prove that I was not only capable of doing the job, but doing it well was important to me."
As the bank expands its footprint across Carbon County, Ruby passes the torch stating, "I am honored to have shared the oversight of the bank's growth with a talented team and group of executives. I am proud to have worked all these years for Bank of Commerce. The bank is in good hands." 
Copper France leaves Ruby with final remarks as she retires saying, "I am eternally grateful for the opportunity to learn from someone whose heart has the BOC brand embossed on it. Our motto is to "Be a Better Bank" and thanks to Ruby and all her years with Bank of Commerce, we are certainly better. Our bank is better, our community is better, and our team is better! Congratulations on a job well done!"
Bank of Commerce invites you to honor Ruby Ogden at an Open House Celebration on Wednesday, February 15th, from 3:00 pm – 5:00 pm at BOC, located at 221 3rd Street in Rawlins. Refreshments will be served.
Contact: Nicole Murry – (307)324-2265 nmurry@bocrawlins.com
---

Saratoga Loan Production Office Now Open for Business. 
December 2, 2022 - (Rawlins, Wyoming) - Bank of Commerce has expanded its footprint in Carbon County with the opening of a Loan Production Office (LPO) in Saratoga, Wyoming. An LPO is an administrative division of the bank that focuses solely on loan requests. At the Loan Production Office, we will carry out all administrative functions that accompany the requesting and receiving of loans. However, this location is not a full branch and is not set up to conduct normal banking functions like, accept deposits or loan payments. There is an ATM on-site and available 24/7 for withdrawals.
The Loan Production Office will be staffed by Karen Youngberg, LPO Office Manager and Dennis Kilmer, VP/Loan Officer, open Monday through Friday from 8:00 am - 5:00 pm, closed for an hour for lunch. Contact the Bank of Commerce Lending Team in Saratoga at 307-326-5656. (See our full press release below).
Contact: Nicole Murry – (307)324-2265 nmurry@bocrawlins.com
---

Bank of Commerce to Open Loan Production Office
October 17, 2022 – (Rawlins, Wyoming) – Bank of Commerce (BOC), a community bank headquartered in Rawlins, Wyoming, will expand its footprint in Carbon County with the opening of a Loan Production Office (LPO) in Saratoga, Wyoming. Nicole Murry, BOC Marketing Administrator says, "Although we are anxious to get going, our official open date is yet to be determined. We have been held up by delayed office furniture and equipment delivery." The new office, located at 217 N 1st Street will be led by Dennis Kilmer, Vice President / Loan Officer and Karen Youngberg, Office Manager. The pair will be supported by the lending team and entire staff at Bank of Commerce. Karen is a Saratoga native and has nearly 43 years of experience in banking in the Saratoga community. She says, "Bank of Commerce has been helping valley residents for many years and we are excited to further support these communities by bringing a Loan Production Office to Saratoga." Dennis Kilmer brings 20 years of experience in mortgage lending. "Dennis has developed key relationships with realtors, builders and developers in the valley which has led to valuable referral business" says Copper France, President & CEO. Kilmer says, "We believe that better banking builds a better community, and we look forward to serving you at our new location."
While the Loan Production Office isn't a full-service branch, the expansion will support customers who are looking for a banking partner that is focused on community and making local decisions. As Carbon County's only locally-owned bank, Bank of Commerce keeps its promise to continually strive to live up to the banks mission to "Be a Better Bank" by doing things like opening the Saratoga LPO for the convenience of our customers.  Copper France noted that ultimately, the bank would like to convert the Loan Production Office into a full-service branch, but that process will take some additional time and resources.  
The Bank of Commerce Loan Production Office will be open Monday through Friday from 8:00 am – 5:00 pm, closed for an hour for lunch. All bank products and services can be found at www.bocrawlins.com.
---

BANK OF COMMERCE JOINS 'SAFE BANKING FOR SENIORS' CAMPAIGN
New education initiative to combat $2.9 billion in annual senior fraud
            Rawlins– Bank of Commerce has joined the national effort to protect seniors from becoming victims of fraud and financial abuse through Safe Banking for Seniors social media campaign and in-person workshops at Senior Center's in Rawlins and across Carbon County. Bank of Commerce encourages both seniors and their financial caregivers attend these information sessions to learn about identifying and avoiding scams, choosing a responsible caregiver, preventing identity theft, and choosing a responsible financial caregiver. Watch for more information on upcoming sessions.  
Each year older customers lose approximately $2.9 billion to fraud, but it is suspected that number is drastically underestimated because only 1 in 44 seniors report financial abuse. Safe Banking for Seniors is a new financial education program established by American Bankers Association Foundation to help combat this growing problem. 
 "Scammers are always developing new ways to rip people off, and sadly, they often targeting our seniors for numerous reasons," said Copper France, President & CEO. "The Safe Banking for Seniors presentations and information sharing will provide older customers and their financial caregivers with the knowledge they need to proactively protect themselves and their loved ones from these crimes."
 Bank of Commerce also offers the following tips for seniors and their financial caregivers:
Know the warning signs of scams. Scammers are always thinking of new ways to steal from seniors, but knowing the warning signs of scams will help stop fraud in its tracks.  Paying fees or taxes for sweepstakes or lottery "winnings", acting immediately on an offer or insisting on secrecy are characteristics of some types of fraud. When in doubt, talk to a trusted advisor, family member or friend.
Protect your financial identity. Some scammers are more interested in stealing financial identities to open new credit cards or loans in seniors' names.  Shred receipts, bank statements and unused credit card offers before throwing them away. Never give personal information, including Social Security Number, account number or other financial information to anyone over the phone unless you initiated the call and the other party is trusted.
Choose a responsible financial caregiver. Sadly, family members and friends can also take advantage of seniors and leave them in financial ruin. Plan ahead for the day that you may not be able to manage finances on your own.
Talk to your banker about options to ease financial caregiving responsibilities. Banks offer a wide range of services to help seniors and financial caregivers manage finances in accordance with seniors' needs and desires.   
For more consumer tips, see the Consumer Resources section at www.aba.com/seniors.          
---

June 24, 2022
ATTENTION NEW DEBIT CARD HOLDERS
This notice effects all customers who have been issued a NEW debit card in the past couple week and those who will receive one this week.
Bank of Commerce is converting to a new debit card provider.  On Wednesday, June 29th the conversion will take place. Your card is still valid, however, please activate your card and set a new PIN by calling 1-800-567-3451 after 12:00 pm on the 29th. (Do not call the number on the sticker on your card. It is the number of our former card provider.)
Activations that took place before June 20th, do nothing. Those set after the 20th, please call the number above and RESET with our new card provider to avoid problems as the conversion takes place. 
After resetting your PIN, if you have problems with your card, please let us know ASAP by calling 307-324-2265.  
---

June 7, 2022 
Installation of "Cowboy Tough"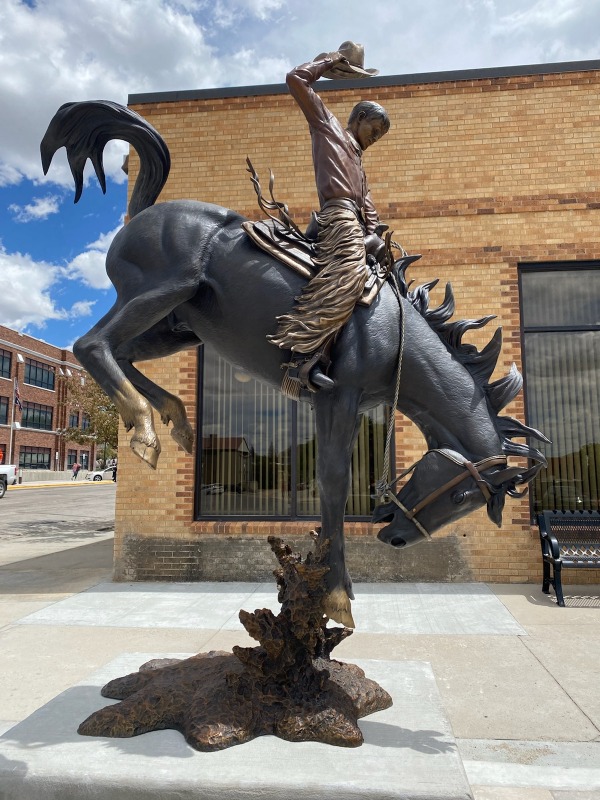 ---
NEWS RELEASE
FOR IMMEDIATE RELEASE
March, 20, 2022
Bank of Commerce and ICBA Celebrate America's Ag Community
National Agriculture Week is March 20-26 
Rawlins, Wyoming, March 20, 2022 - In recognition of National Ag Day, Bank of Commerce and the Independent Community Bankers of America (ICBA) are celebrating the contributions of America's local farmers, ranchers, and agricultural enterprises.
Community banks provide 80% of all financing to and are often the catalysts for new and expanded business opportunities within their communities. In fact, community banks provide roughly $130 billion in agriculture loans.
National Ag Day was founded nearly 50 years ago to recognize the contributions of farmers in providing Americans with healthy, affordable, and abundant food options. ICBA offers the following facts about the agriculture industry:
The typical American farmer produces enough food and fiber to feed 166 people, producing jobs and investment throughout the economy.
Americans spend less than 10 percent of their disposable income on food, allowing consumers financial freedom to purchase other goods.
Farming and related industries employ 21.6 million people, making up 11 percent of total U.S. employment. 
About Bank of Commerce
Agricultural financing is one of the strengths of Bank of Commerce. Our loan staff works hard to understand your operation in an effort to help you succeed. We appreciate the importance of agriculture in our community and enjoy helping local producers. See our experienced loan officers for operating loans, equipment loans, livestock purchases, and improvement loans. We recognize the essential role of agriculture, which is central to our country's health and prosperity and we do all we can to support these stewards of the land and their work to preserve our nation's natural resources - today, tomorrow and for the future - for the benefit of all. 
About ICBA
The Independent Community Bankers of America® creates and promotes an environment where community banks flourish. ICBA is dedicated exclusively to representing the interests of the community banking industry and its membership through effective advocacy, best-in-class education, and high-quality products and services.
With nearly 50,000 locations nationwide, community banks constitute roughly 99 percent of all banks, employ nearly 700,000 Americans and are the only physical banking presence in one in three U.S. counties. Holding nearly $5.9 trillion in assets, over $4.9 trillion in deposits, and more than $3.5 trillion in loans to consumers, small businesses and the agricultural community, community banks channel local deposits into the Main Streets and neighborhoods they serve, spurring job creation, fostering innovation and fueling their customers' dreams in communities throughout America. For more information, visit ICBA's website at www.icba.org.
Contact: Nicole Murry – (307)324-2265 nmurry@bocrawlins.com
FOR IMMEDIATE RELEASE
February 16, 2021
Flood at Bank of Commerce Causes Damage
Rawlins, WY – Bank of Commerce in Rawlins announced today that a flood at the bank may cause delays in service, but the bank is still functional. The weekend brought extremely cold temperatures, breaking a water line and flooding main areas of the bank. Copper France, Bank of Commerce President & CEO says, "We are working quickly to recover and restore full services." Customers can expect business as usual, but may experience slight delays due to limited staff computer access. The Bank of Commerce leadership team is working to re-establish full connectivity as clean-up efforts inside the bank continue. The bank is open for business and staff are working behind closed doors with the lobby temporarily closed. Customers who need to do business inside the bank are encouraged to call and make an appointment. Banking services remain available at the walk-up, drive-through, and ATM as well as convenient banking options; online, mobile and telephone banking services that are available 24/7.  BOC customer service representatives can be reached by calling 307-324-2265. Updates will continue at www.bocrawlins.com and on Facebook at @BOC.WYO.
Contact: Nicole Henley
Bank of Commerce
Marketing Administrator
---

NEWS RELEASE
FOR IMMEDIATE RELEASE
December 28, 2020
Bank of Commerce Launches Rebrand

Rawlins, WY - Bank of Commerce, Carbon County's only locally owned bank, announced today a rebrand of its visual identity. It has been nearly 30 years since Bank of Commerce has updated the brand. The time is right to refresh the look as a total package. The team has been working on this project for quite some time and a lot of thought and consideration went into adopting the brand package. "We went into this project with an idea of what we wanted and worked out every last detail to make sure it perfectly represented our vision," said Nicole Henley, Marketing Administrator who led the branding evolution. "The rebrand is not just cosmetic – it has given us the opportunity to reflect on our values and put our mission to work."

The new brand identity is current and modern but also a timeless reflection of the organization and the strong role BOC plays in the community. It is a fresh look for Bank of Commerce but one thing remains the same, the promise of excellence. Copper France, President & CEO noted, "This logo represents the strength and determination of our Board of Directors, officers and staff to provide convenient and quality banking products and services to our customers without sacrificing the high quality customer service they have come to expect when they bank with us." BOC Board Member Mary Penland adds, "The rebrand has been a long time coming, but we, as a board, hope to show that Bank of Commerce is rock solidly here for our current and future customers in Carbon County."

The Bank of Commerce logo has a vibrant color palette and new typeface with the tagline "Your Home-Owned Bank". "The buffalo coin icon with mountains in its back is a reflection of the banking industry and represents our surroundings right here in Carbon County, Wyoming. It is also a symbol of the strength in our communities," describes Henley. But there is more to it than meets the eye. France says, "The goal was to offer a taste of history and a strong vision of growth and prosperity for the people of Carbon County." As industry leaders, Bank of Commerce is committed to our customers. "When people in Carbon County need banking services, we want to be the first institution they think of. We also want to be known as someone who is involved in and gives back to the communities we serve," states France. It won't take long for Carbon County to recognize the new Bank of Commerce logo and all it stands for.
---