Bank Local. Shop Local. Dine Local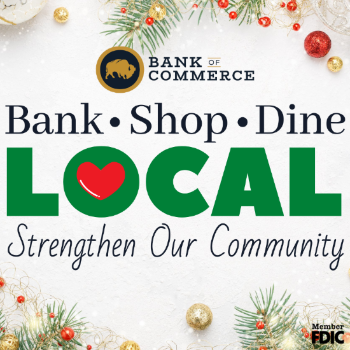 When you shop locally, you are supporting members of your community, creating jobs, and improving the economic health and success of the place you live, work and play.
Shop Small, not just this holiday season, but all year long!
Here are 6 good reasons to Bank, Shop and Dine Local.
1. Small businesses give back (more) to your community. When you support local you are supporting your neighbors, friends and entire community. (Because local businesses pay sales taxes to the city and county they are located in and those tax dollars support schools, roads, parks, sidewalks and even fund our public service workers like the police officers and firefighters).
2. Small Businesses provide better customer service. Our small towns across Wyoming strive to survive by giving you the very best service – because their business counts on every customer. Giving a good customer experience that will result in repeat business is what it is all about.
3. Small businesses create a sense of community. You're much more likely to get to know a small business owner in your neighborhood because they are invested in our entire community as well as their business. They want to do well and in turn our community also benefits.
Keeping your business in town by banking, shopping and dining locally just feels good. You can count on us, and we count on your business. Thank you for supporting our local economy.  As a locally-owned and operated company, we understand the challenges and opportunities small businesses face. Competing with large, regionally or nationally owned businesses can be daunting.  That is why keeping it local is more important than ever. A small change in where you spend your money can make a big impact on our local economy.