Keep My Banking Private
11-4-21 Policy Update from Copper France, BOC President & CEO
Previously Bank of Commerce had a post encouraging everyone to reach out to our congressional delegation to support keeping your financial information private and to stop the proposal to require banks and credit unions to report account activity on your accounts to the Internal Revenue Service (IRS).  We would like to thank all of you that did reach out.  You made a difference, and the controversial proposal was not included in the budget framework as originally outlined by Congress.  Even though this has been dropped from the House bill, there is still a possibility it could be added back at a later point.  Banks like ours will continue to advocate against this proposal and invasion of your privacy, but we still need your help.  We encourage you to continue to voice your concerns and help us stop this disturbing effort.  Contact your congressional delegation by phone (the better method), e-mail, or regular mail. Please share your opinions with your Senators and House Member. You can find their contact information here.
9-20-21 TAKE ACTION. TELL CONGRESS TO KEEP MY BANKING PRIVATE
We are posting the Consumer Alert again because THIS IS URGENT! Congress is working right now to fast-track a Treasury proposed by the Biden administration requiring banks to report new information to the IRS on any customer account over $600. That is pretty much everyone's account information. We care about you and your privacy and want to see this stopped.
Time is running out to let Congress know bankers and consumers alike oppose the idea. Contact your lawmakers now, before it's too late. Visit this website to electronically sign and submit letters to your representatives to have your voice heard on this privacy issue.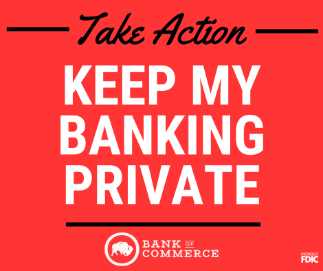 9-7-21 CONSUMER ALERT
Because we care about you, your finances and your account with Bank of Commerce, we want to let you know about a concerning proposal taking shape in Washington. The Biden administration is proposing requiring financial institutions report to the IRS all transactions of all business and personal accounts worth more than $600.
So how does that effect you? If passed, the proposal would require financial institutions like ours to report the inflows and outflows on personal and business accounts to the IRS regardless of customers' consent. This is an unprecedented invasion of privacy and we need your help to get it stopped.
We work for our customers and our community, not the IRS. Join us in telling Congress that proposed IRS bank account profiling is intrusive and indiscriminate for our customers. TAKE ACTION NOW by visiting the ICBA here